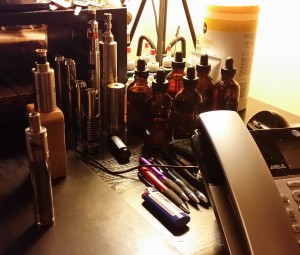 Smoking is dead, vaping is the future, the future is now… Rip Trippers.
We are a full service law firm that focuses on the needs of the vaping industry.
Breaking News: The FDA has issued new rules and regulations regarding the Vaping Industry. We offer premier legal assistance with an eye towards compliance. Read more here.
Additionally, we can help protect your intellectual property to secure your market share of the billion dollar vapor industry.
With over a third century experience in branding, including initial entity formation, obtaining copyright protection, prosecuting state and federal trademark applications, negotiating and drafting contracts and license agreements, and litigating to enforce intellectual property rights, we can save you time and money. It's better to address your intellectual property and contractual needs at the inception of your company, rather than to risk exposure at a later date for failure to diligently search and/or license pre-existing intellectual property rights which may be problematic.
Moreover, we can assist you with product liability suits in the event your vaping product causes damage.
Over the last several years, we have proudly represented several vape manufacturers, wholesale and retail distributors, vendors, suppliers, brick and mortar stores, internet web sites, vapes, vapers, and others with respect to their services and products, including but not limited to mechanical mods, variable voltage/wattage mods, atomizers, cartomizers, e-liquids, e-juices, and drip tips.
We have also represented cloud chasers who enter vape competitions that are rapidly becoming bona fide sporting events. Additionally, we are involved in the production of a reality show featuring the vapor industry. As your attorney, we try to maximize your alternatives. The possibilities are limitless.
Notwithstanding, in many ways the vape industry is still like the wild west. Many international manufacturers and distributors clone protected intellectual property and evade the consequences. We have been successful in bringing some of these international infringers to justice.
Recently, we were successful in gaining jurisdiction over a Chinese company in the United States District Court for the Southern District of Florida and obtained a federal court order ruling that the company's representatives had to appear in Miami, Florida for deposition.
On the other hand, we have also been successful in defending those who are wrongfully threatened by wealthy and powerful trademark bullies seeking to hijack domain names and/or collect money by overextending the breadth of their mark in court and/or with Uniform Domain Name Dispute Resolution Procedure (UDRP).
Additionally, we can assist if U.S. Customs detains your rightful shipment of allegedly infringing products.
We are globally minded, client focused, and welcome the opportunity to serve you. Also, we are cloud chasing vape enthusiasts.